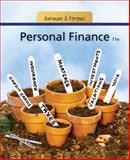 This book is not guaranteed to come with supplemental materials (access codes, CD's, DVDs, etc.)
Personal Finance
ISBN-13: 9781111531010
AUTHOR: Forgue, Raymond and Garman, E. Thomas
EDITION: 11
PUBLISHER: Cengage South-Western
Also available at Amazon.com
REVIEWS
---
Personal Finance (Rental: 130 Days)
3
3
Managing. Money
I like that I was able to rent this book. I ordered the book a few days before the semester began, and I received this book before my first assignment was due. I would rent again.
June 22, 2014
Textbook was in good shape and arrived very quickly!
Ordering the book was incredibly easy. Also, you guys had the best price. And other than a few things circled, the book was in good shape.
December 18, 2013
PERFECT BOOK AND QUICK, RELIABLE SERVICE
The book was nearly new & the exact book I needed.
December 19, 2012