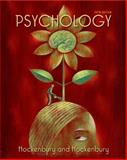 This book is not guaranteed to come with supplemental materials (access codes, CD's, DVDs, etc.)
Psychology
ISBN-13: 9781429201438
AUTHOR: Hockenbury, Don H. and Hockenbury, Sandra E.
EDITION: 5
PUBLISHER: Worth Publishers, Incorporated
Also available at Amazon.com
REVIEWS
---
Psychology, Fifth Edition (Rental: 35 Days)
5
5
Perfect for students who need financial help!
I'm so lucky to have found this site because otherwise I would not have been able to get this book for my Psychology 101 class!
September 3, 2013
easy, not complecated terms
perfect to study, easy to understand on time, never late
December 19, 2012
Great Book
The comprehensivity of this book is at a fantastic level. The book acknowledges a great selection of thoughts and theories while still elaborating on what absolutely needs to be known as a student.
January 25, 2012
Affordable and with quality
Renting this book from here is so beneficial. It's a fraction of the price of buying; yet with brand new quality. It's very beneficial especially if I don't plan on keeping the book afterwards. Not only is the price and quality great, but there is ZERO hassle with receiving and giving back the book. This site has a great system of sending out the book swiftly and on time, but also provides FREE return shipping and handling. All I had to do was put it in the pre-sent pink envelope, stick it shut, and put it in the mail. So easy! Amazing system. I recommend this site to a lot of students who want an amazing and cheap alternative to buying/trading textbooks for school. A+
January 25, 2012
This was exactly what I needed
I received the book fast. I was satisfied with the condition of the book. I like receiving reminders when it is time to return the books.
January 12, 2012