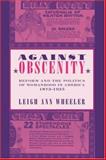 Against Obscenity
Reform and the Politics of Womanhood in America, 1873-1935
ISBN-10: 0801878020
ISBN-13:
9780801878022
AUTHOR:
Wheeler, Leigh Ann
PUBLISHER:
Johns Hopkins University Press
Also available at Amazon.com
Note: Not guaranteed to come with supplemental materials (access codes, CDs, DVDs)
Product Description:
Radio "shock jocks," Super Bowl entertainment, music videos, and internet spam-all of these topics inspire passionate disagreements about whether and how to regulate sexually explicit material. But even in the midst of heated debate, most people agree that children should be shielded from exposure to pornographic images. Why are children the focal point of debates over sexually explicit material? And how did a culture rooted in Puritanism and Victorianism become saturated with sex?
In Against Obscenity, Leigh Ann Wheeler offers new answers to these questions through a study of women's anti-obscenity activism from 1873 to 1935. This period saw the emergence of an increasingly sexualized popular culture comprised of burlesque shows, risqu#65533; vaudeville acts, and indecent motion pictures. It also witnessed the enfranchisement of women. These momentous cultural and political developments come together in a story about middle- and upper-class women who mobilized against lewd public amusements and, simultaneously, challenged the men whose work as activists, jurors, and even law enforcement officials, had defined and regulated obscenity for several decades.
By the 1920s, women who led the anti-obscenity movement enjoyed the support of millions of American women and the attention of presidents, congressmen, and Hollywood moguls. Today we live in a world profoundly shaped by their work but largely ignorant of their influence. Using primary sources as intimate as private correspondence and as formal as meeting minutes, Against Obscenity tells the story of these all but forgotten women, exploring their passionate disagreements over whether to ban a touring stage show, close a local burlesque theater, disseminate explicit sex education pamphlets, or create a federal agency to regulate Hollywood films. It shows that the rise and fall of women's anti-obscenity leadership shaped American attitudes toward and regulation of sexually explicit material even as it charted a new era in women's politics. In the end, the book argues that essentialist identity politics divided and ultimately disarmed women's anti-obscenity reform, helping us understand the curiously muted impact of woman suffrage. It also cautions against framing debates over sexual material narrowly in terms of harm to children while highlighting the dangers of surrendering discourse about sexuality to the commercial realm.
Additional Details
---
PUBLICATION DATE:
3/5/2004
PAGES:
272
CATEGORY: Biography & Autobiography, Law, Social Science
21 Day Unconditional Guarantee
any book, any reason