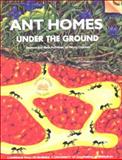 Ant Homes under the Ground
Science and Math Activities for Young Children
ISBN-10: 0924886366
ISBN-13:
9780924886362
AUTHOR:
Echols, Jean C. and Hosoume, Kimi
PUBLISHER:
University of California, Berkeley, Lawrence Hall of Science
Also available at Amazon.com
Note: Not guaranteed to come with supplemental materials (access codes, CDs, DVDs)
Product Description:
Ant Homes Under the Ground features playful activities for young children, ages three to six, that delve into many aspects of these ubiquitous and fascinating social insects. Students learn about ant body structure, jobs, and homes by observing ants in nature and in an ant farm. They role-play ants following a scent trail and dragging food through a tunnel-like structure. A large Ant Nest poster, included with the guide, is assembled in stages to highlight tunnels, ant food, social structure, and life cycle. A culminating cooperative logic game called Fill the Hill brings together knowledge the children have gained with stimulating mathematical and cooperative skills. In addition to the wealth of life science learning, the natural integration of science and math is a strength of this unit.TABLE OF CONTENTS:
Introduction
Activity 1 Ants, Ants, Ants
Acitivity 2 Ants and Ant Tunnels
Activity 3 What Happens Inside an Ant's Home?
Activity 4 How Ants Grow and Change
Activity 5 Fill the Hill
Background Information
Resources
Literature Connections
Assessment Suggestions
Summary OutlinesExpanding progressively on the salient point (yes, ants), peppered with creature graphics and endless variations on an ant nest, this book makes formiculture look beside the point. Geared for youngsters three to six, it's more visual and game happy then Terrarium Habitats, but provides the same in-depth background for adults. Its big black-and-white sectional poster, assembled as you work through the activities, is the prize perk. And, like its counterpart guides, Ant Homes plugs for gentle stewardship of the live creatures it solicits for hands-onexploration.-Whole Earth Magazine, Spring 1999
Additional Details
---
PUBLICATION DATE:
11/1/1999
PAGES:
116
CATEGORY: Education, Mathematics
21 Day Unconditional Guarantee
any book, any reason