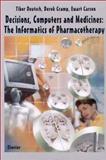 Decisions, Computers and Medicines
The Informatics of Pharmacotherapy
Note: Not guaranteed to come with supplemental materials (access codes, CDs, DVDs)
Product Description:
In virtually all countries concerns are being expressed over the rising cost of the medicines component of health budgets, the safety of medicines, their inappropriate use and more recently ethical issues arising from the use of therapies resulting from developments in molecular biology and genetics. Purchasers of pharmaceuticals demand value for money as well as efficacy and safety in order to use their resources more efficiently. Furthermore, they expect companies in the pharmaceutical industry to provide economic arguments for the use of each product. Pharmaceutical companies have responded by recognising that relative clinical benefits, quality of life, the effect on disease management and individual patient outcomes are more realistic measures by which their products can be judged and evaluated.
The efficacy of a drug is determined primarily through randomised controlled clinical trials. However, because of the outcomes already described, it has become necessary to widen the scope of assessment to include not only measures of clinical effectiveness (outcome) and the evaluation of costs and cost benefits, but also the more subjective aspects of outcome such as patient preferences, values and quality of life. Given the volume of information available, its collation and interpretation is extremely complex making it difficult for the policy makers to give adequate consideration to all the relevant, competing and often conflicting factors. As a result, conclusions as to which drug therapy option is both the most effective clinically and the most efficient in the use of economic resources and thus generally acceptable may well be based on flawed judgements.
To support the process of health and medicines policy making, the new disciplines of pharmaceutical outcomes research and pharmacoeconomics need to make full use of the advances that have occurred in medical informatics as well as the "sister" discipline of bio-informatics. In this volume "Decisions, Computers and Medicines" the authors introduce the formal methods of medical and bio-informatics that are relevant to the qualitative and quantitative aspects of complex decision making when establishing medicines policies.
Additional Details
---
PUBLICATION DATE:
12/12/2000
528
CATEGORY: Education, Medical
21 Day Unconditional Guarantee
any book, any reason