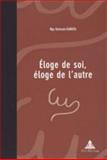 Eloge de soi, eloge de L'autre
ISBN-10: 905201180X
ISBN-13:
9789052011806
AUTHOR:
Kabuta, Ngo Semzara
PUBLISHER:
College of Europe Publications Interuniversitaires Europeennes SC
Also available at Amazon.com
Note: Not guaranteed to come with supplemental materials (access codes, CDs, DVDs)
Product Description:
On sait que la littérature orale africaine comprend des contes, des proverbes, des épopées, des mythes, etc. Ce qu'on sait beaucoup moins, c'est qu'elle déploie tout son génie dans la poésie, d'une variété et d'une vivacité étonnantes.
Parmi les genres poétiques, il en est un qui frappe particulièrement l'attention, par son caractère à la fois insolite et ostentatoire. Insolite parce qu'il s'inscrit dans un contexte où les règles de bienséance le proscrivent, et ostentatoire en tant qu'expression publique de la personne. Il s'agit de l'éloge de soi, qui implique nécessairement l'éloge d'autrui dans la mesure où il recourt abondamment à la généalogie et d'autres procédés qui concourent à resserrer les liens entre les individus. L'éloge de soi, ou autopanégyrique, remplit souvent une fonction politique, permettant à un individu ou un groupe de légitimer des droits ou d'asseoir une autorité. Il est aussi, tout simplement, un complément élogieux au nom propre de la personne. Mais il s'avère être également un instrument efficace de connaissance de soi et un aliment précieux de l'estime de soi, dimension essentielle de la personne, remplissant ainsi une fonction puissamment thérapeutique. Enfin, il a aussi un caractère spirituel, qui permet de relier les individus les uns aux autres, l'individu à son environnement, à sa source et à lui-même.
En tant qu'outil thérapeutique, l'autopanégyrique est utile aussi bien pour les Occidentaux que pour les Africains, confrontés, pour des raisons diverses, à des problèmes d'identité et soucieux d'accéder à un mieux- ou un plus-être. En tant que voie spirituelle, il est une méditation sur la vie et une méthode visant à l'amélioration de la personne, qui devient ainsi un ferment pour une société meilleure. On s'aperçoit que, paradoxalement, il est l'expression d'une profonde modestie. Le succès des ateliers d'autolouange est bien une preuve de la pertinence de cet art merveilleux.
Additional Details
---
PUBLICATION DATE:
1/1/2003
PAGES:
374
CATEGORY: History
21 Day Unconditional Guarantee
any book, any reason