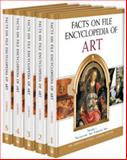 Facts on File Encyclopedia of Art
Note: Not guaranteed to come with supplemental materials (access codes, CDs, DVDs)
Product Description:
A Comprehensive Reference to the History of Art

Embracing a global perspective of art and expertly explaining the development of art across time and cultures, this comprehensive and authoritative five-volume set presents the entire history of world art. Using broadly defined subjects, this richly illustrated reference is organized chronologically into insightful chapters, each dealing with the art of a specific period, geographic region, or civilization.

A Fascinating Visual History Combined with Expert Scholarship

Covering all of the recognized major arts, including architecture, painting, drawing, and sculpture, as well as other art forms such as ceramics and metalwork, Facts On File Encyclopedia of Art shows readers the diversity of expression in the visual arts. Fundamental characteristics of the major styles and periods of art history are clearly expressed, and their significance is analyzed. Chapters detail significant aspects of the subjects in digestible sections, covering the arts of a specific people or dynasty, art made of particular substances, or art used for special purposes. Bringing together the vast accumulated knowledge of many scholars, the encyclopedia provides the information necessary for readers to comprehend the significance of various forms of art and to appreciate the wide-ranging artistic achievements of numerous cultures throughout history. The sections on Modern American Art, European Art Since World War II, and various others detailing non-Western art cover such topics as feminist art and women artists; graffiti art; video art, sound art, and installation art; and pluralism in art at the beginning of the 21st century.

Interesting, Informative Special Features

In addition to the clearly written text and beautiful full-color reproductions of artworks, Facts On File Encyclopedia of Art contains many special features intended to highlight major topics, spur readers to further research, and ensure easy access to information. Maps show readers the locations where civilizations and peoples created their works of art, text boxes offer detailed explanations of selected topics, and a bibliography follows each section.

Coverage includes:
Volume 1: Paleolithic Art to Etruscan Art
Volume 2: Roman Art to Early Christian Art
Volume 3: Byzantine Art to Ottonian Art
Volume 4: Romanesque Art to Romanticism
Volume 5: Realism to South African Art.
Special features highlight such topics as:
The Barcelona Pavilion
Buddhist Kamakura Sculpture
Calligraphy in Islamic Art
Carolingian Bookcovers
Engraved Gems and Classical Coins
The Houses of Frank Lloyd Wright
Maya and Central Mexican Codices
Northwest Coast Sculpture
The Oseberg Ship Burial
Renaissance Armor
Salome in Symbolist Art
Sassanian Silverware
Sculpture and Glass at Chartres
The Stela of Mentuhotep
Sung Ceramics
and more.
Additional Details
---
PUBLICATION DATE:
8/1/2005
PAGES:
1040
CATEGORY: Art
21 Day Unconditional Guarantee
any book, any reason