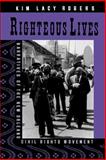 Righteous Lives
Narratives of the New Orleans Civil Rights Movement
Note: Not guaranteed to come with supplemental materials (access codes, CDs, DVDs)
Product Description:
An emotionally evocative, richly textured history based on autobiographical accounts of those who lived and shaped the struggle. The importance of many of Rogers'' subjects and the uniqueness of New Orleans make this must reading for anyone interested in the history of the movement. But those interested in oral history and African-American autobiography will find riches aplenty as well. A welcome addition to a number of literatures
--Doug McAdam, author of Freedom Summer
Righteous Lives skillfully blends oral history with a perceptive analysis of three generations of civil rights leadership in New Orleans. Rogers has revealed not only what people did, but what they remember, and how their assessments of their activism have changed over time.
--Donald A. Ritchie, U.S. Senate Historical Office
"Rogers paints a slightly less rosy picture, one in which the Louisiana un-American Activities Committee staged a raid on the offices of the Southern Conference Educational Fund (SCEF), and the City Council passed laws prohibiting the right to peaceful assembly, paving the way to jailing protesters."
--Gambit Weekly
This important study provides fresh insights into the lives of both black and white civil rights leaders, documents the diversity of individuals and motivations, and traces movement history in a major southern city. Well written and well researched, this book is highly recommended for readers at all levels.
--Choice
Charts the distinctly different experiences and memories of 25 black and white civil rights activists of three ''generations'' in New Orleans, opening with a deft sketch of the city''s unusual racial background with its black Creole caste.
--Publishers Weekly
An important study, full of valuable information, profoundly moving testimony, and provocative insights.
--The Journal of Southern History
A major contribution to our understanding of the civil rights movement. RIGHTEOUS LIVES illustrates the complexity of movements for social change, the long history of seemingly spontaneous conflicts, and the personal consequences of political activism. Rogers reveals how issues of caste and class, of gender and generation divided the black community in New Orleans, while her in-depth interviews and observations bring to the surface previously unexamined contradictions within the white southern experience as well. RIGHTEOUS LIVES also offers perceptive and thought-provoking insights into broader issues of collective and individual memory, life history, and autobiography. It evokes the struggle for African-American self-determination in the Crescent City with clarity and conviction, and it stands as a fitting testimonial to the courageous men and women whose voices provide so much of the book''s fascinating narratives and textures.
-- George Lipsitz, University of California, San Diego
When former Ku Klux Klan Grand Wizard David Duke campaigned for governor in late 1991, race relations in Louisiana were thrust dramatically into the national spotlight. New Orleans, the political and economic hub of the state, is in many ways representative of Louisiana''s unique racial mix, a fusion of African-American, Caribbean, European, and white Southern cultures. An old, colorful port famous for its French and Spanish heritage, distinctive architecture, and jazz, New Orleans was a peculiarly segregated city in the 1950s and 1960s. Yet, despite its complicated racial and ethnic identity and heated desegregation battles, New Orleans, unlike other Southern cities such as Birmingham, did not explode.
In this moving work, Kim Rogers tells the stories, in their own words, of the New Orleans'' civil rights workers who fought to deter the racial terrorism that scarred much of the South in the 1950s and 1960s. Spanning three generations of activists, RIGHTEOUS LIVES traces the risks, triumphs, and disappointments that characterized the lives of New Orleans activists. Chronicling watershed moments in the movement, Rogers'' compelling narrative illustrates how blacks and whites worked together to decompress the tensions that accompanied desegregation in the ethnic mosaic of New Orleans.
Additional Details
---
PUBLICATION DATE:
12/1/1992
PAGES:
254
CATEGORY: Biography & Autobiography, Political Science, Social Science
21 Day Unconditional Guarantee
any book, any reason