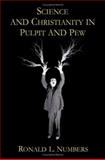 Science and Christianity in Pulpit and Pew
ISBN-10: 0195320379
ISBN-13:
9780195320374
AUTHOR:
Numbers, Ronald L.
PUBLISHER:
Oxford University Press, Incorporated
Also available at Amazon.com
Note: Not guaranteed to come with supplemental materials (access codes, CDs, DVDs)
Product Description:
As past president of both the History of Science Society and the American Society of Church History, Ronald L. Numbers is uniquely qualified to assess the historical relations between science and Christianity. In this collection of his most recent essays, he moves beyond the cliches ofconflict and harmony to explore the tangled web of historical interactions involving scientific and religious beliefs. In his lead essay he offers an unprecedented overview of the history of science and Christianity from the perspective of the ordinary people who filled the pews of churchesor loitered around outside. Unlike the elite scientists and theologians on whom most historians have focused, thesevulgar Christians cared little about the discoveries of Copernicus, Newton, and Einstein. Instead, they worried about the causes of the diseases and disasters that directly affected their lives and about scientists preposterous attempts to trace human ancestry back to apes. Far from dismissing opinion-makers in the pulpit, Numbers closely looks at two the most influential Protestant theologians in nineteenth-century America: Charles Hodge and William Henry Green. Hodge, after decades of struggling to harmonize Gods two revelationsin nature and in theBiblein the end famously described Darwinism as atheism. Green, on the basis of his careful biblical studies, concluded that Ussher's chronology was unreliable, thus opening the door for Christian anthropologists to accommodate the subsequent discovery of human antiquity. In Science without God Numbers traces the millennia-long history of so-called methodological naturalism, the commitment to explaining the natural world without appeals to the supernatural. By the early nineteenth century this practice was becoming the defining characteristic of science;in the late twentieth century it became the central point of attack in the audacious attempt of intelligent designers to redefine science. Numbers ends his reassessment by arguing that although science has markedly changed the world we live in, it has contributed less to secularizing it than manyhave claimed. Taken together, these accessible and authoritative essays form a perfect introduction to Christian attitudes towards science since the 17th century.
Additional Details
---
PUBLICATION DATE:
9/10/2007
PAGES:
208
CATEGORY: History, Religion
21 Day Unconditional Guarantee
any book, any reason