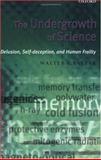 The Undergrowth of Science
Delusion, Self-Deception and Human Frailty
ISBN-10: 0198604351
ISBN-13:
9780198604358
AUTHOR:
Gratzer, Walter Bruno
PUBLISHER:
Oxford University Press, Incorporated
Also available at Amazon.com
Note: Not guaranteed to come with supplemental materials (access codes, CDs, DVDs)
Product Description:
Walter Gratzer's themes in the stories he relates in this book are collective delusion and human folly. Science is generally seen as a process bound by rigorous rules, which its practitioners must not transgress. Deliberate fraud occasionally intrudes, but it is soon detected, the perpetratorscast out and the course of discovery barely disturbed. Far more interesting are the outbreaks of self-delusion that from time to time afflict upright and competent researchers, and then spread like an epidemic or mass-hysteria through a sober and respectable scientific community. When this happensthe rules by which scientists normally govern their working lives are suddenly suspended. Sometimes these episodes are provoked by personal vanity, an unwillingness to acknowledge error or even contemplate the possibility that a hard-won success is a will o' the wisp; at other times they stem fromloyalty to a respected and trusted guru, or even from patriotic pride; and, worst of all, they may be a consequence of a political ideology which imposes its own interpretation on scientists' observations of the natural world. Unreason and credulity supervene, illusory phenomena are described andmeasured, and theories are developed to explain them - until suddenly, often for no single reason, the bubble bursts, leaving behind it a residue of acrimony, recrimination, embarrassment, and ruined reputations.Here, then, are radiations, measured with high precision yet existing only in the minds of those who observed them; the Russian water, which some thought might congeal the oceans; phantom diseases that called for heroic surgery; monkey testis implants that restored the sexual powers of ageing rouesand of tired sheep; truths about genetics and about the nature of matter, perceptible only to Aryan scientists in the Third Reich or Marxist ideologues in the Soviet Union; and much more. The Undergrowth of Science explores, in terms accessible to the lay reader, the history of such episodes, up toour own time, in all their absurdity, tragedy, and pathos.
Additional Details
---
PUBLICATION DATE:
9/1/2001
PAGES:
338
CATEGORY: History, Science
21 Day Unconditional Guarantee
any book, any reason